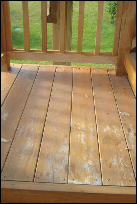 Why didn't my Michigan deck hold up after a year?
There are several reasons why deck sealers and stains do not hold up. The most common is that the deck was not prepped right. Anytime a finish is applied all of the previous coating must be removed by using a deck stripper followed with a light pressure washing or power washing of the deck. If it was not all removed the new coating will not penetrate all the way into the wood. Another reason is that an inferior product was used typically from Home Depot, Lowes, and other high volume box stores. They carry products for novice users and don't carry the high quality oil based products necessary to protect your deck. The last reason is that the stain was probably sprayed, which usually comes out uneven on the flooring.
Your deck needs to be professionally done if you want expert results. All the old sealer must be removed by a chemical stripper. Cedar grain will naturally raise when it's stripped, so a professional wood restorer will remove as much of the fuzzies as possible. A professional grade oil based wood sealer should be considered. Cedar looses its natural oils over time. Olympic and TWP oil based wood sealers and Preservatives will replenish most of the lost natural oils protecting the wood inside and out. Every two years a deck should be cleaned and sealed. New cedar wood decks will not hold as much oil based sealer in that natural oils are still present. Thus, you may need to refinish a new cedar deck at the first anniversary of sealing and then go to a 2 year maintenance program.
Remember this, chemicals clean and water rinses. A pressure washer is simply a tool to help speed up the deck cleaning process. If a company is using it to strip, remove, or restore a deck with out using a stripping material, they are not doing the job right and will destroy your deck. Our estimates always include a deck stripper to remove the previous coating.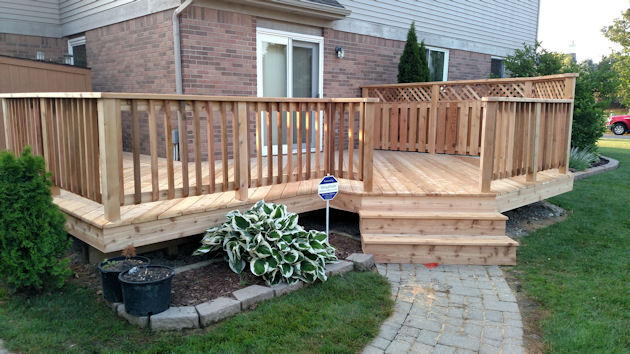 Exterior Wood Restoration

We never use high pressure to strip a deck; instead we properly use bio-degradable cleaners and strippers to remove failed stain and sealers to strip a deck. We only apply non-film building transparent stains that are contractor friendly.

Supreme Deck Restoration has several experienced crews that can tackle large condo complexes in under a week. We do NOT spray any of our deck sealer, deck stains, or preservatives. All of our deck stain that we apply are all hand brushed for top quality. Of course, there are a few exceptions such as gazebo ceilings. All new cedar deck owners love the way their deck looks when it is first built and wet. This is the look they all want, so they think clear will give them that. It will for that summer. Next spring the deck will have a silver appearance to it. Clear sealers contain NO UV protection. If you use one, your deck will turn gray in less than 1 year. All brands considered.
Composite deck cleaning

The mold that forms on composite decking material, most commonly "Trex". Supreme Deck has a process that removes most of the mold and restores composite decking to original. A composite Trex deck sealer will prevent mold from forming as fast.By using a composite cleaner and by power washing or pressure washing the surface we will eliminate all the black mold spots. Just a simple power wash or pressure wash will not work alone.A composite Trex deck sealer will prevent mold from forming as fast. Chemicals clean and water rinses.

Trex and other common composite materials still weather and grow mold. PVC decking is the only composite material that we see that does not grow mold.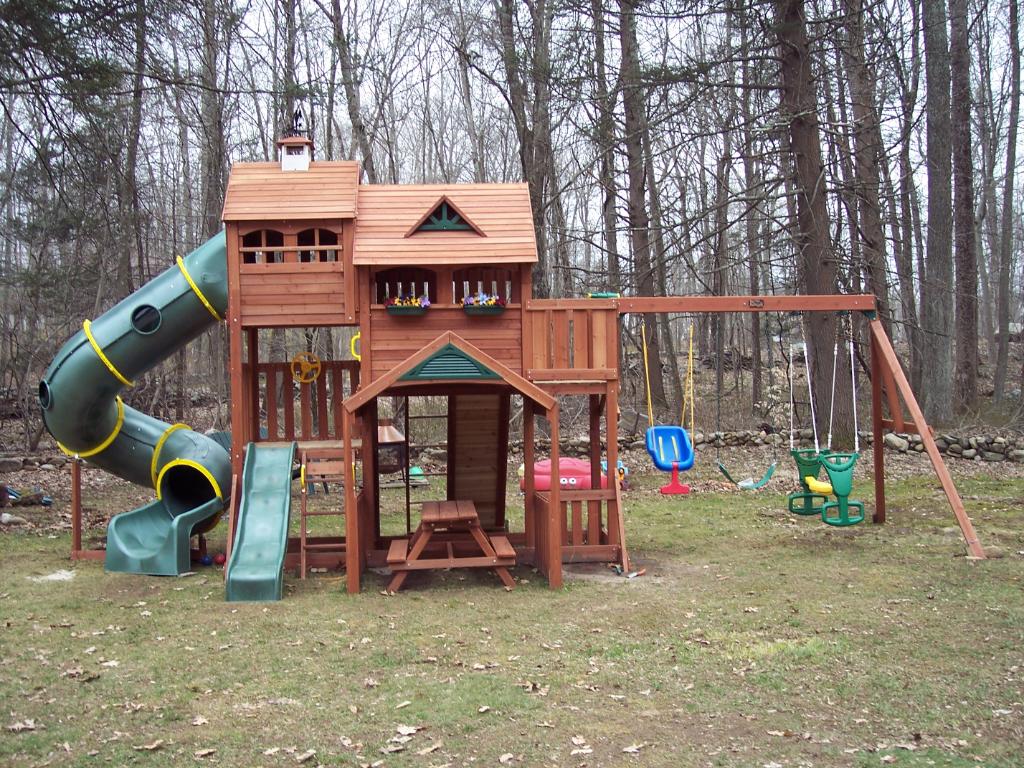 cedar playsets

We can also refinish your rainbow play system or play set. You invested money in it and it takes up a lot of space in your backyard, so why not refinish it while you are doing the deck. We have refinished hundreds of play sets over the years back to the original factory finish. Remember, when your rainbow play system used to be natural redwood? We can do it for far less than the rainbow factory will. We use the original rainbow factory Duckback Superdeck Heart redwood finish 1901.