Deck cleaning Michigan | Deck Cleaners in Michigan | Pressure washing
Supreme Deck Restoration has been a leader in the deck cleaning and power washing industry in Michigan since 1991.  We set the standards in deck restoration that other companies try to follow.   Deck refinishing is our area of expertise.  All of our decks that we stain are hand brushed for top quality.  We have restored over 30,000 decks in the Rochester Hills, Brighton, Novi and Ann Arbor areas in Michigan.
Have rotted deck boards | We can replace them
Supreme Deck Restoration can restore the beautiful look of your valuable wood deck with use of proven restoration techniques. Wood decks in Michigan take an incredible amount of abuse from sun, rain, dirt, and foot traffic because it is a horizontal surface. Over time the harsh effects of weather will naturally oxidize the surface of the wood giving it a gray color appearance. Sun and moisture can cause inferior deck coatings to fail prematurely. Our deck restoration techniques can restore all wood decks back to new – no matter how deteriorated it has become.  Generally, we can clean Trex composite decks to a newer condition.
We clean Trex decks and vinyl fences in Michigan
Michigan homeowners not only use their wood deck they also use their teak furniture. Patio sets are expensive and are on all the decks that we see. Why not have it restored to the factory finish. We typically use Messmers UV Plus for Hardwoods because it penetrates the teak hardwood the best. It does not need to be the same color as the deck. Generally, hardwood decks needs to be oiled yearly.
Top rated stains and sealers – Deck Cleaning Michigan
Olympic Flood semi-transparent
Messmer's
Penofin
Sherwin Williams solid-color stain
Deck Cleaning Michigan | Also Teak furniture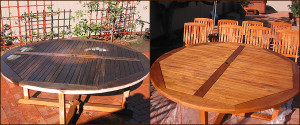 Composite Deck Cleaning | Trex Deck Cleaning Michigan
In the past, generally building decks in the was only from wood.  Today, the introduction of composite deck materials is the most common way to construct a deck.  Overall, the most common building deck material is from Trex Decking.  To much pressure while using a pressure washer can damage uncapped Trex decking. Generally, the contaminants that most often need cleaning off the Trex deck are Mold + Mildew, and the occasional, and often heavy barbecue grease from the grill.
Contact us for a free estimate
We clean Trex decks and Vinyl siding on houses and Apartments
Generally, manufactures instructions state to clean a Trex deck you should either use Olympic deck cleaner, soapy waster and a bristle brush, or bleach with soapy water. If regular maintenance cleaning of your Trex deck is done yearly, then the mold and mildew stains stay away. White spots typically appear after the deck is cleaned. This is common, it is the paper products in the Trex that are bleached white. It will fade in time.
Deck Cleaning Michigan – Supreme Deck Top rated pressure washers
Before                                                                  After
Deck cleaners near me | Deck cleaning Michigan | Pressure washers near me | TWP stain dealers Michigan